Description
The Most Compact 65W Fast Charging Gan Charger 
ZEERA GaN Wall Charger is the most compact and fastest Gan Charger on the market with a maximu output of 65w, which makes it great for travel. Imagine being able to charge all of your daily devices up to 4x faster with just a single block.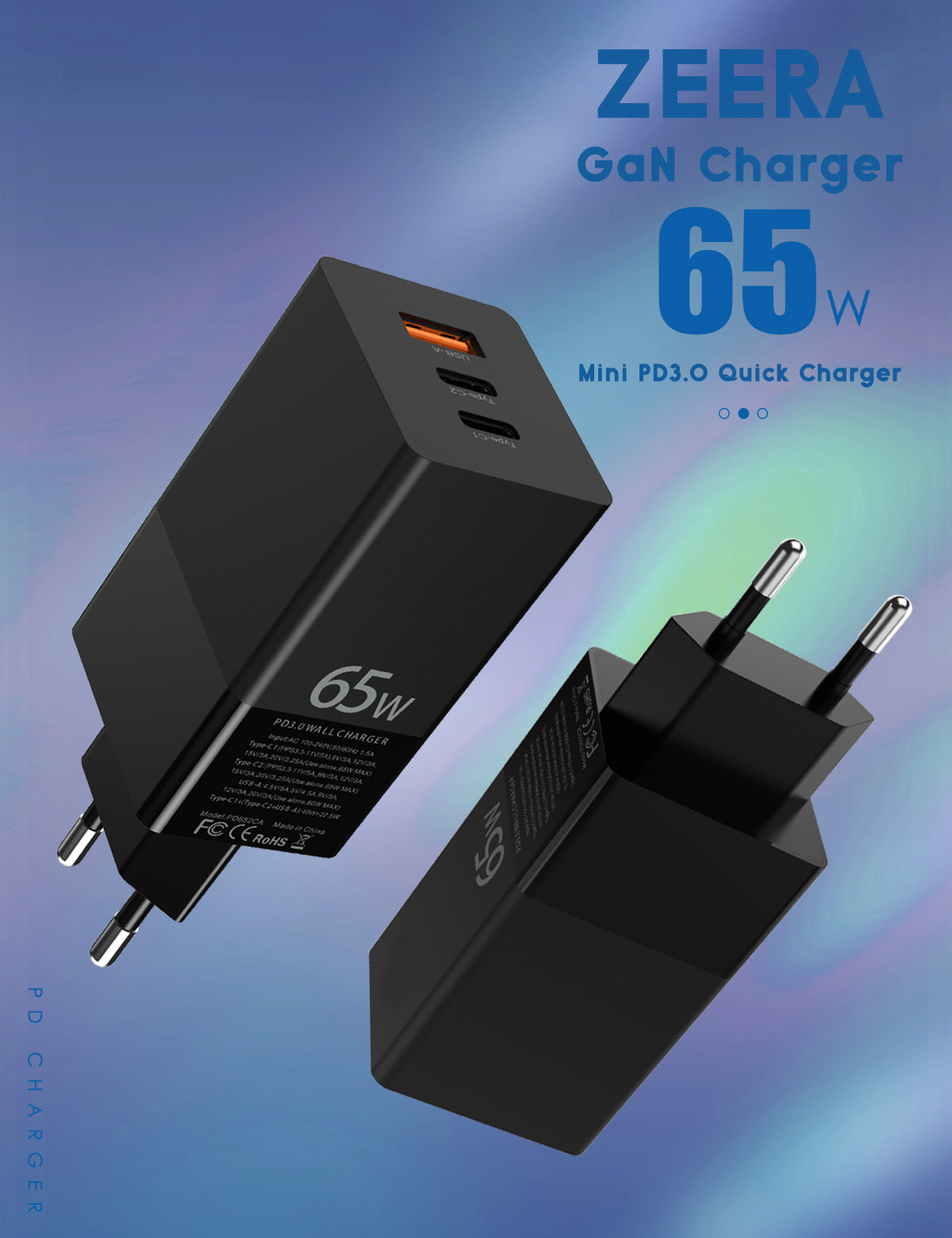 One
 charger for all your powerful devices
ZEERA GaN charger supports the fastest charging protocols, (PD 3.0/2.0, QC 4.0/3.0/2.0, AFC, FCP, SCP, SFCP).
Charge 50% within 30 minutes
for iPhone 13 Pro Max. Featuring fast charging for iPhone 12 & iPhone 13 series, iPad Air , iPad Pro, Nintendo Switch and AirPods at the same time. The intelligent power management delivers optimal charging power to fast charge your devices.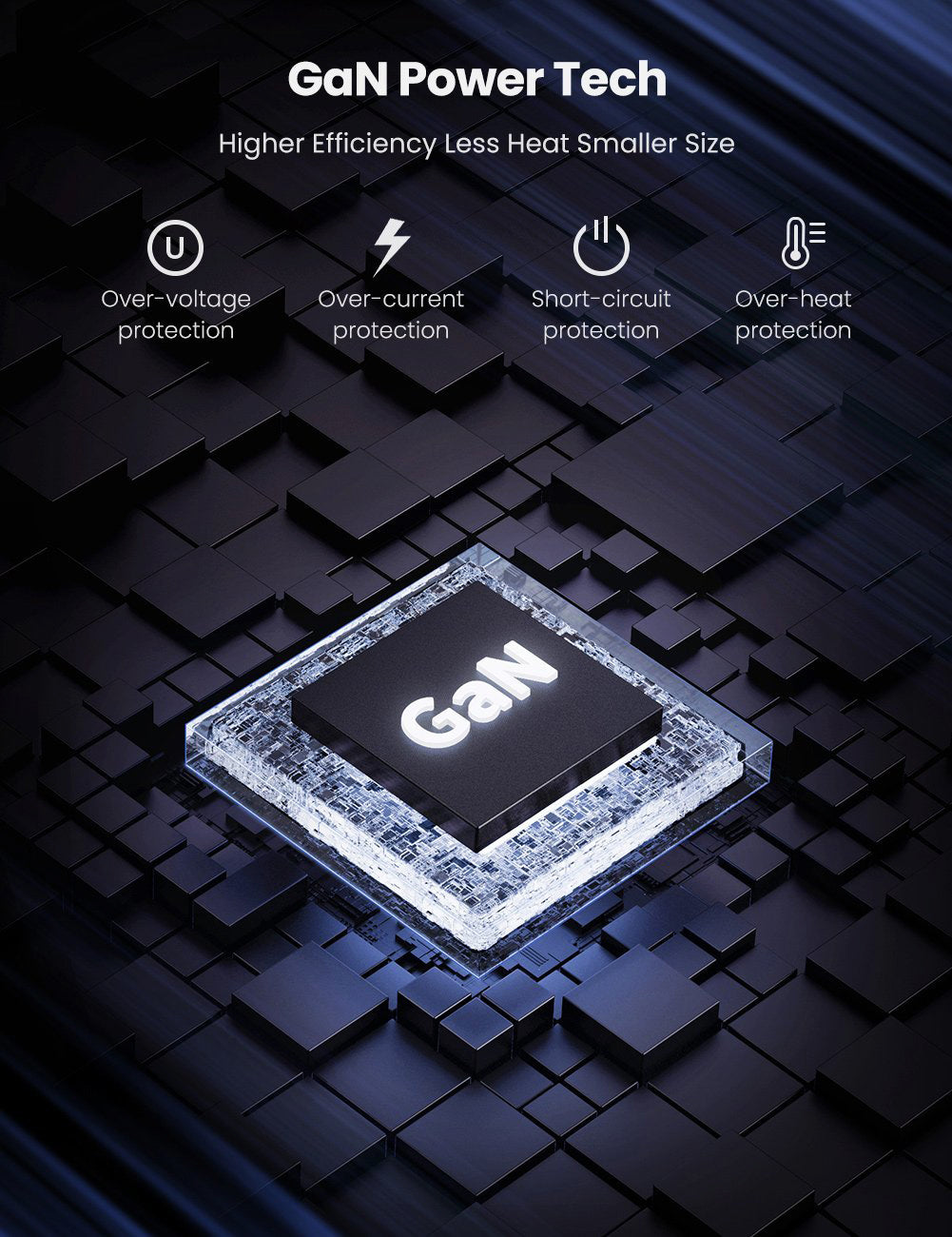 Declutter your workspace
Clean up your desk and declutter your workspace by getting rid of your old slow chargers. Charge FASTER with the ZEERA GaN Charger instead. Comfortably replace 3 other chargers with one ZEERA GaN charger and enjoy the hitch-free fast charging.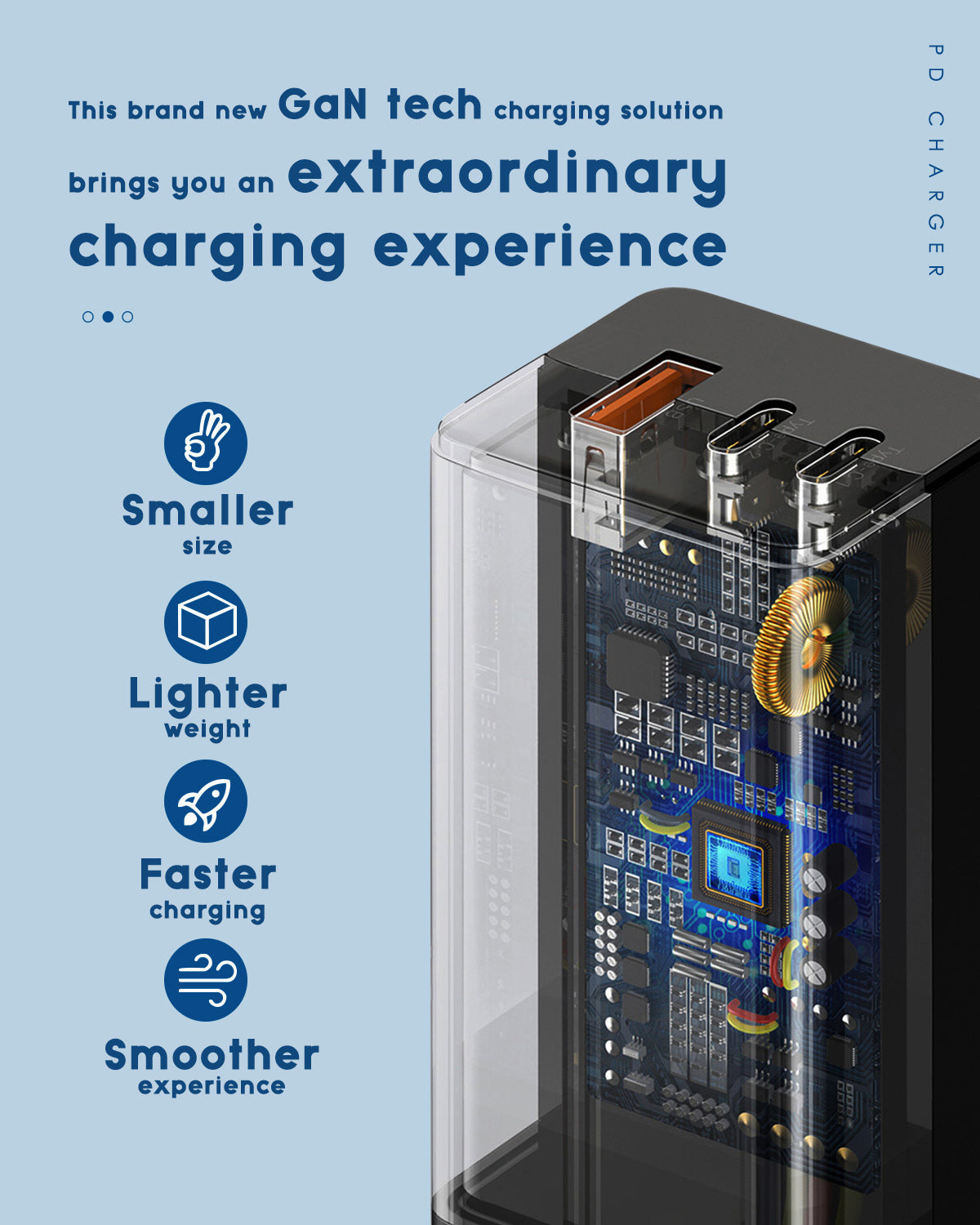 Super Fast Charge 3 Devices Simultaneously
Charge faster, effortlessly with the most advanced GaN charging technology.
ZEERA GaN Charger provides you with 3 charging ports that are compatible with all the latest Quick and fast charging protocols. 2 x USB-C Power Delivery 3.0 + 1 x USB-A (supporting QC3.0, AFC, VOOC, SCP & FCP).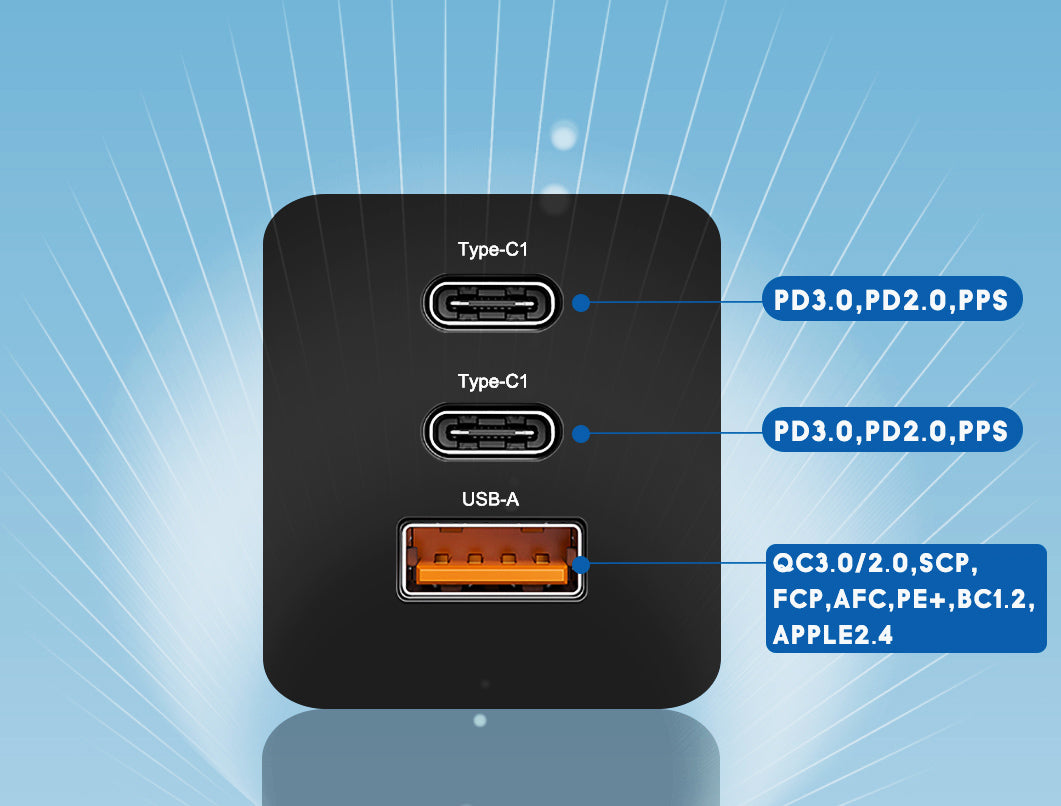 ZEERA 65W USB-C PD GaN Wall Charger Parameters

Input:
AC 100-240V 50/60Hz
Total Output:
65W
Single Port Charging Mode
Type-C1 (Output)
(PPS 3.3-11V/5A)  5V/3A,9V/3A,12V/3A,15V/3A,20V/3.25A (Maximum 65W)
Type-C2  (Output)
(PPS 3.3-11V/5A)  5V/3A,9V/3A,12V/3A,15V/3A,20V/3.25A (Maximum 65W)
USB-A (Output)
4.5V/5A,5V/4.5A,9V/3A,12V/3A,20V/3A (Maximum 60W)
Dual Port Charging Mode
Type-C1 + Type-C2
40W + 20W
Type-C1 + USB-A
40W + 22.5W
( Type-C2+USB-A )
22.5W Combined
Three-port Charging Mode
Type-C1 +( Type-C2+USB-A )
40W + 22.5W Combined
Product dimensions
US PLUG: 32*39*66(MM)  / EU PLUG: 32*39*75(MM) / UK PLUG: 32*39*75(MM)
Net weight
US PLUG:110g / EU PLUG: 112g / UK PLUG: 119g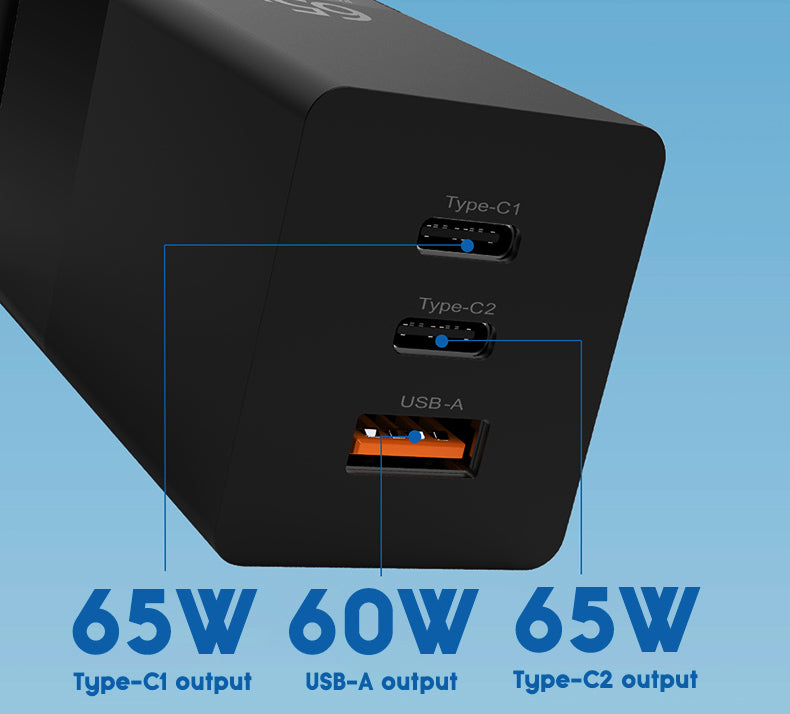 Safe charging
ZEERA GaN Charger detects and prevents high temperature, over-voltage, short circuits, and more with built-in protection.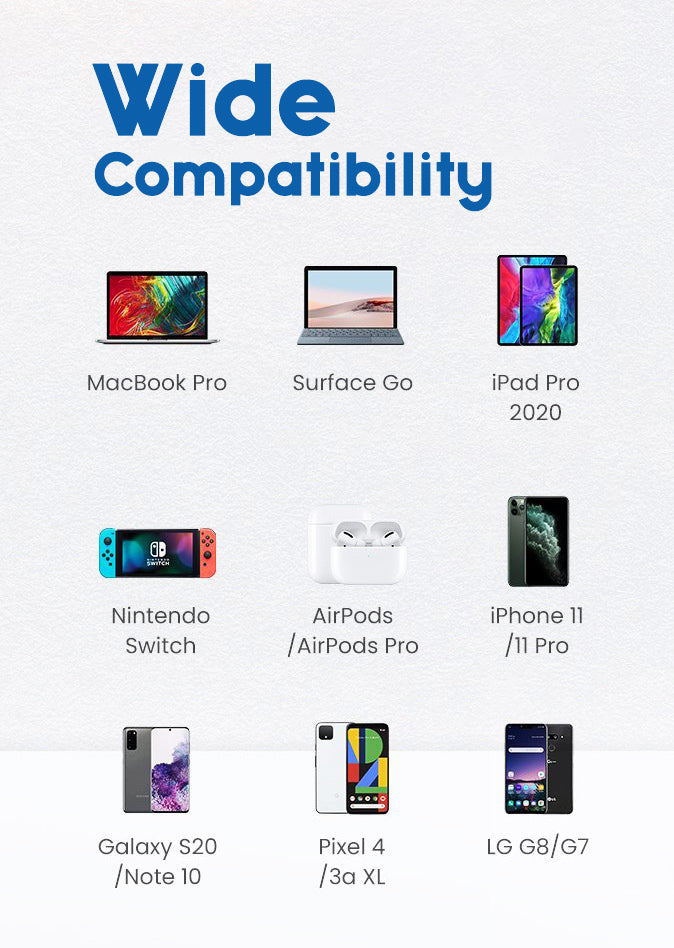 World's smallest 65W GaN Charger
With GaN technology we were able to put more power into a pocket sized ZEERA GaN Charger to power 3 devices simultaneously.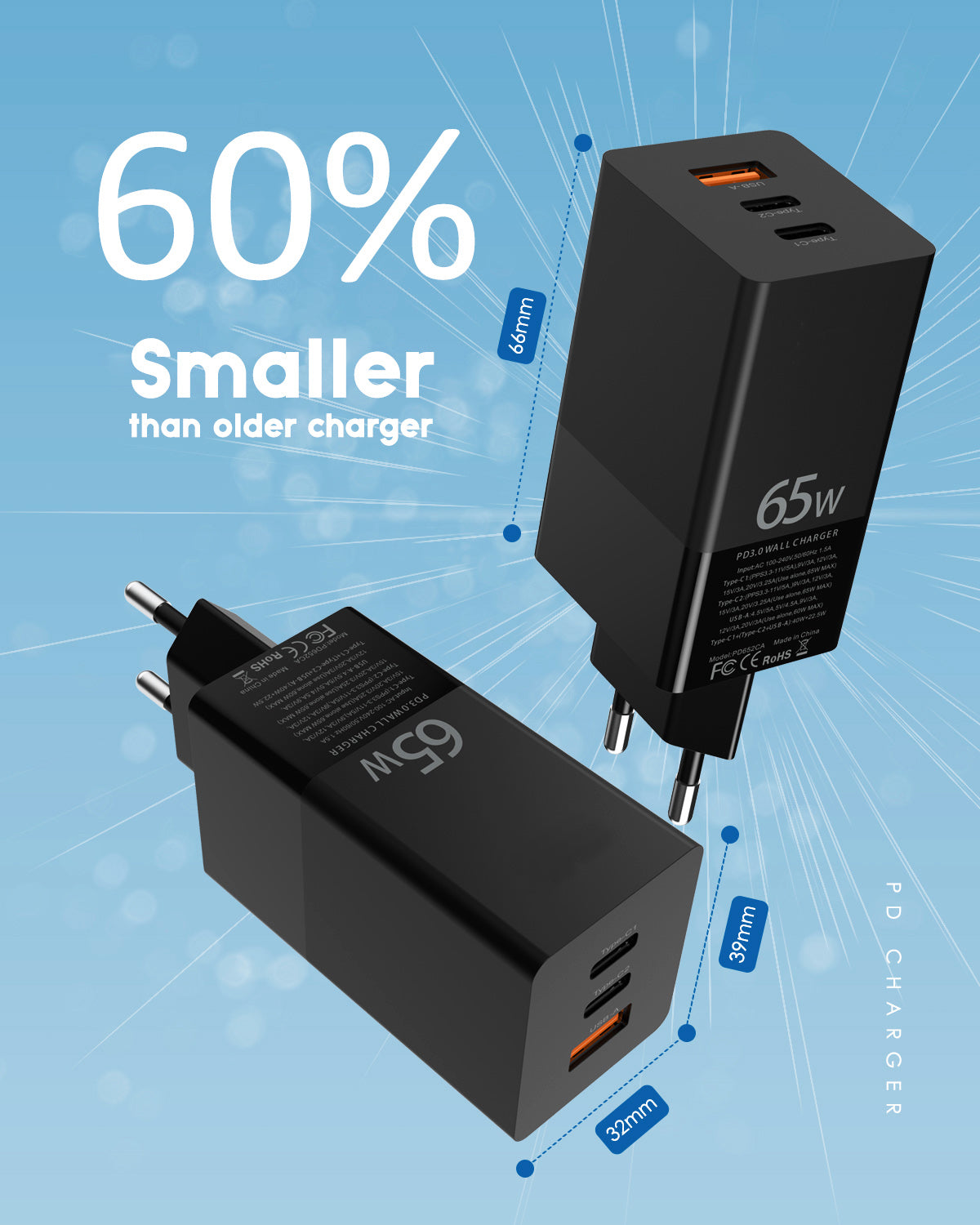 What's GaN and why do you need it?
Gallium nitride, or GaN, is a material that's starting to be used for semiconductors in chargers. It was used to make LEDs starting in the '90s, and it's also a popular material for solar cell arrays on satellites. The main thing about GaN when it comes to chargers is that it produces less heat. Less heat means components can be closer together, so a charger can be smaller than ever before—while maintaining all the power capabilities and safety standards. Aslo this GaN material is able to conduct far higher voltages over time than silicon. Electrical current can pass through components made from GaN faster than silicon, which leads to even faster processing. GaN is more efficient, so there's less heat.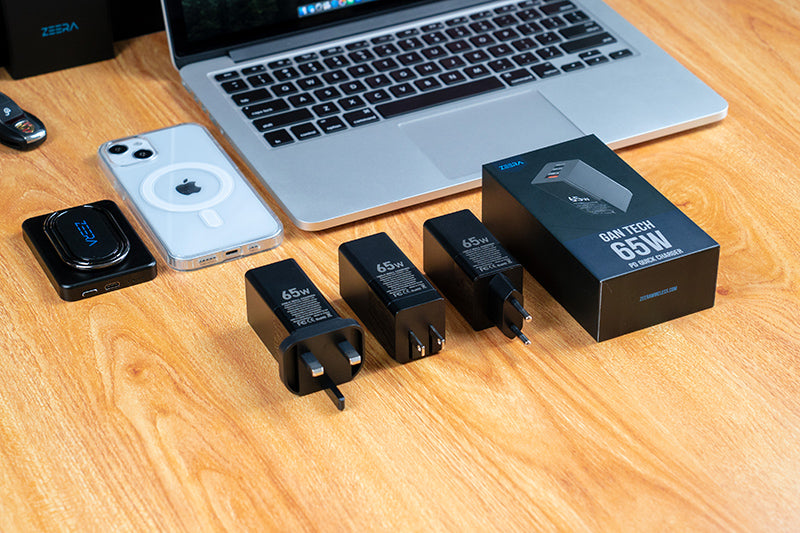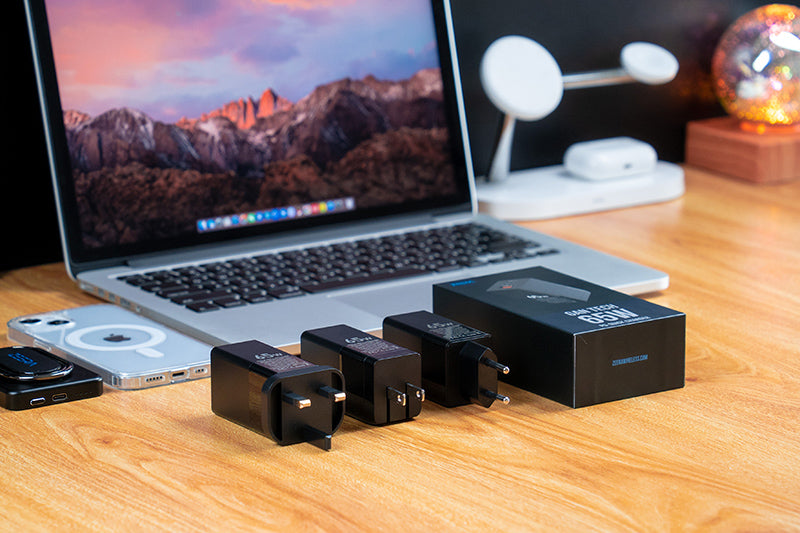 ZEERA MagSafe Clear Case is now available for iPhone models from 11 to 13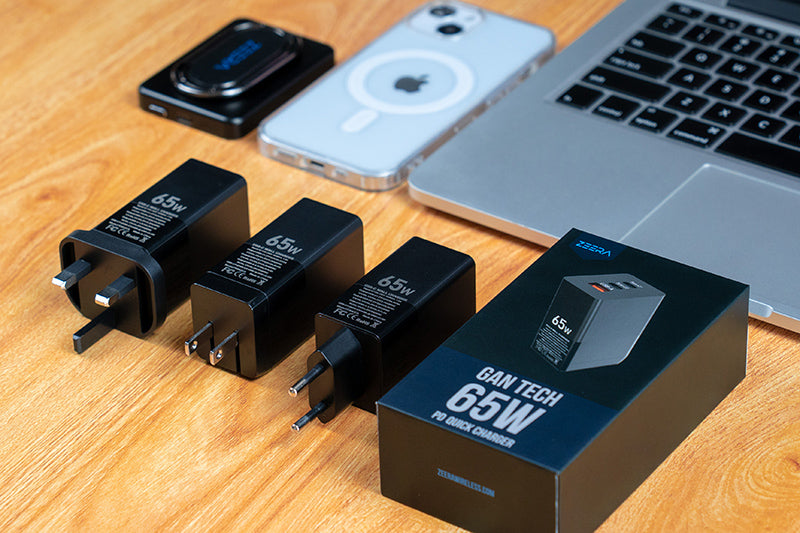 Premium Nylon Braided 100w USB C to C Charging Cable
Payment & Security
Payment methods
Your payment information is processed securely. We do not store credit card details nor have access to your credit card information.
---
Security