Description
When you're buying a ZEERA MagSafe Power Bank, you're not only getting a MagSafe Battery Pack, but also a Magic kickstand and a Magnetic Charging Cable.
Get some extra power just by snapping the ZEERA MagSafe Battery Bank to the back of your iPhone 12.
A Design Upgrade
We have been listening to our customers and constantly improving our products. This time, we changed the color of the button from silver to black.
Key Features
When you charge your ZEERA MagSafe Power Bank, you can not only charge it, but also wirelessly charge your iPhone at the same time.
Benefit from its compact and lightweight design, ZEERA MagSafe Battery Pack can be even putting in your wallet.
The USB C Interface on the ZEERA MagSafe Power Bank is not only capable of charging the battery pack itself, but also able to charge other devices such as iPad through a USB C to USB C / USB C to Lightning cable.
Combine with ZEERA Magic Kickstand, you are allowed to use our MagSafe Power Bank with your iPhone at any angles and any places you want.
ZEERA MagSafe Power Bank Kit comes with a Magnetic Charging Cable. Those ring magnets hold the ZEERA cable in a neat and tidy shape while remaining fully functional and extendable. Make your coil small or large keeping those counter tops looking great. Organizing your cables has never been this simpler.
This slim, lightweightand portable battery pack is designed to keep your devices powered up when you need them most.
Thanks to built-in magnets, it instantly aligns with your iPhone12 or iPhone 11 when equipped with an ZEERA MagSafe Case and starts wirelessly charging your devices.
CHARGE YOUR IPHONE12 WIRELESSLY, ANYWHERE, ANYTIME!
By combining magnets and wireless charging technology in an ultra‑slim, compact design, we created a classy multi-functional portable charger you can easily keep on your phone to keep it charged wirelessly.
2-IN-1 PORTABLE BATTERY PACK & WIRELESS CHARGER.
When at home and plugged-in, ZEERA MagSafe Power Bankworks just like any other wireless charger. Ready to go? Unplug it and use it as a convenient portable battery to charge your phone wirelessly or wired while out and about.
Thanks toZEERA Magic Kickstand, the ZEERA MagSafe Power Bank makes it incredibly easy to dock your phone on the desk & other surfaces. Or take it with you for easy and convenient wireless charging on the go. Ultra - functional, portable and powerful!
ZEERA MagSafeportable battery ditches the Lightning cord to create a seamless wireless charging solution.
ZEERA MagSafe Power Bank is perfect for traveling, camping, or literally any time that you don't have an outlet nearby.
With 3000 mAh of storage capacity, you can be sure that you would never run of battery on the go. However, what's unique about this product is that it magnetically sticks to the back of your iPhone and makes using the phone while charging a breeze. And when you get home, you can just use it as a wireless charging stand. So it provides the ULTIMATE 2 in 1 Combo for the price of 1!
You don't have to get a Power Bank, a MagSafe Wireless Charger or a Battery Case for your iPhone 12. We have got all that covered in one device!  
ZEERA MagSafe Power Bank is exclusively designed for iPhone 12 Series Devices
And it's universal for iPhone 11 series devices when equipped with ZEERA MagSafe Cases.
Specification
Model : ZEERA MagSafe Power Bank
Material : Aluminum Alloy
Battery : 3000mAh(3.7V)
Input : USB C 5V⎓2.4A
Output : USB C 5V⎓2.4A / QI Wireless 7.5W
Size : 85*60*10mm
Weight : 80g
What's in the box
1 x ZEERA MagSafe Power Bank

1 x ZEERA Magic Phone Stand

1 x ZEERA Magnetic Charging Cable

1 x Manual

1 x Package Box
Product Illustration
Power Button : Press once to turn it on; Press twice to turn it off.

USB C Interface : Support Type C input and output.

LED Indicators : Green light lights on while charging your iPhone wirelessly; Each indicator indicates 25% of battery power.
Size Comparison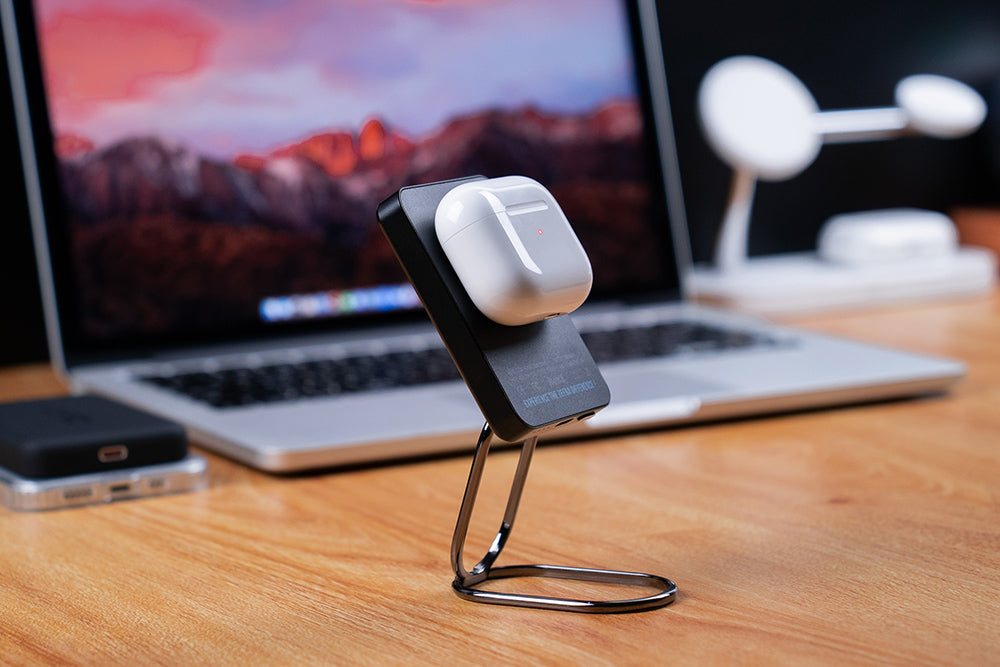 Read Before Use
1,It's just normal that MagSafe Power Bank gets hot while wirelessly charging your iPhone cause it needs heat dissipation.The intelligent temperature control chip built into our MagSafe Power Bank will ensure that every single charge is monitored and safe.
2,Wearing a non MagSafe case or bucky phone case while charging your iPhone wirelessly may result in a lower wireless charging efficiency.
3,ZEERA MagSafe Power Bank has built-in FOD (Foreign Object Detection) intelligent management system. When the green light flashes, it indicates that the system has detected foreign objects on the surface of the ZEERA MagSafe Power Bank and activated the charging protection mode.
4,The battery built into the ZEERA MagSafe Power Bank may become unchargeable if left uncharged or not used for an extended period. Please charge it at least once every 2 months. Forgetting to charge for too long not only has a chance of making the battery unchargeable, but it can also shorten battery life. Keep in mind that repeated charging also results in reduced battery life.
5,The conversion rate of wireless charging is lower than that of wired charging's, which is normal. The wireless charging conversion rate on ZEERA MagSafe Power Bank is around 75%, which is relatively common on the market.
6,ZEERA MagSafe Power Bank has built-in an automatic power off (or sleep mode) when it's not in use. So you aren't drawing enough power for it to detect that you're using it.
7,ZEERA MagSafe Power Bank wirelessly provides supplemental power to your phone when in use and up to a 60%-70% wireless charge on a 0% phone battery when not in use.
The Most Compact 65W Fast Charging Gan Charger
One charger for all your powerful devices
Declutter your workspace
Super Fast Charge 3 Devices Simultaneously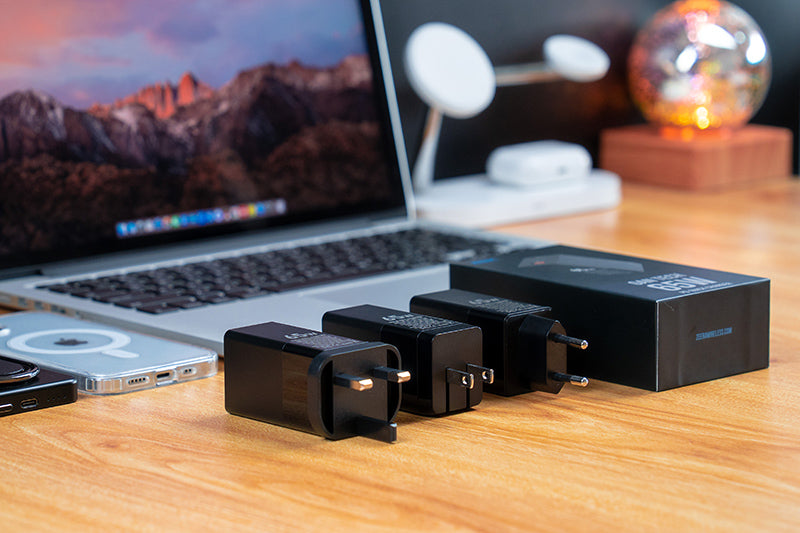 Premium Nylon Braided 100w USB C to C Charging Cable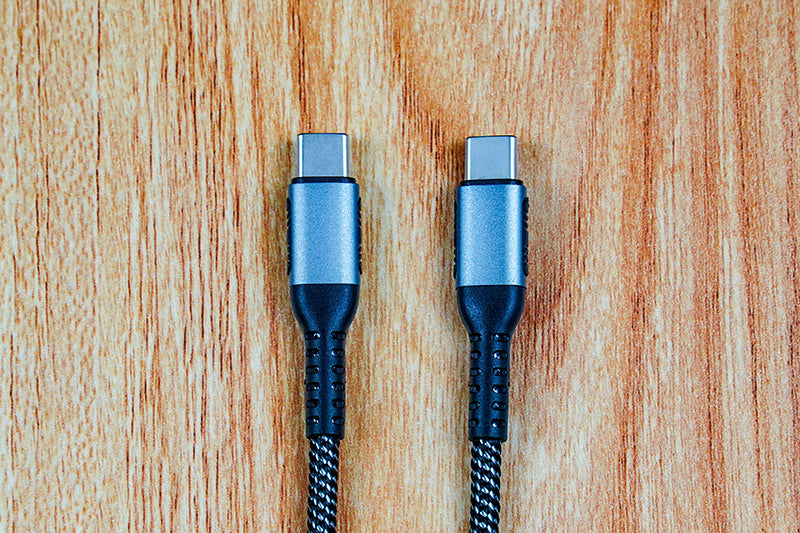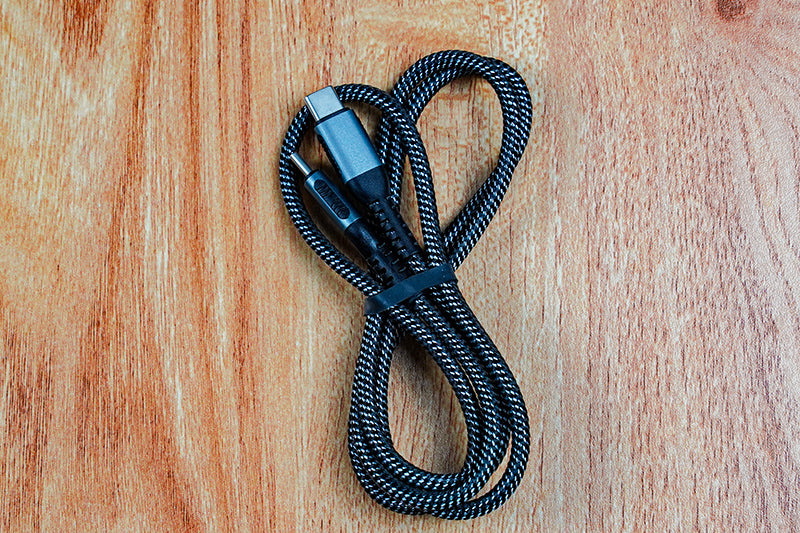 Payment & Security
Payment methods
Your payment information is processed securely. We do not store credit card details nor have access to your credit card information.
---
Security