Description
Introducing The ZEERA XPER
The coolest true wireless earbuds for people who love to enjoy great quality music !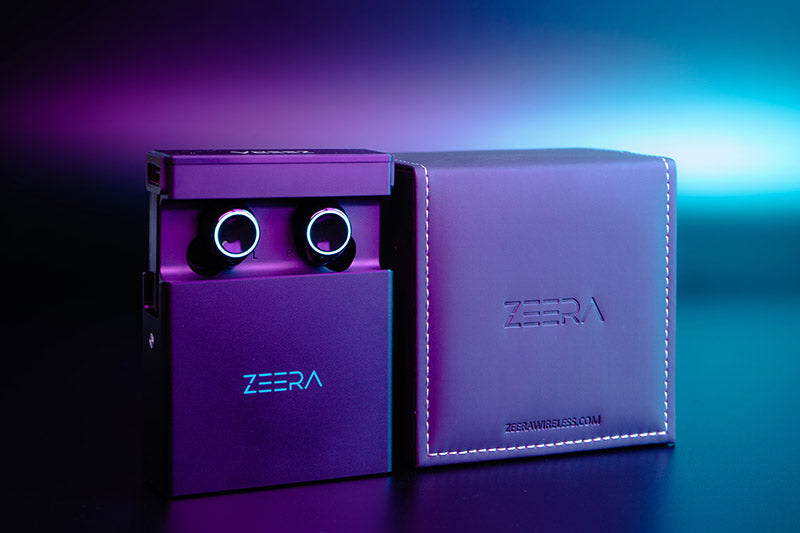 Key Features
| | | | |
| --- | --- | --- | --- |
| | Bluetooth 5.0 Unbreakable Connection | | Backup Power Bank |
| | Advanced Bluetooth Chipset Realtek 8763B | | IPX5 Weatherproof and Sweatproof |
| | Voice Call Noise Reduction | | Precise CNC Cutting Aluminum Alloy Body |
| | Dual Microphones for Seamless Call Experience | | Magnetic Charging Case |
| | Smart Touch Control | | 6 + 102h Playback Time |
| | Auto Power-on and Shut-down | | Intelligent LED Indicator |
| | Auto Bluetooth Reconnection | | Futuristic Breathing Light |
| | Built-in 2500mAh Large Battery | | Smart Voice Assistant Support |
Industry-leading Bluetooth Technology
ZEERA XPER is not only compatible with Bluetooth 5.0 technology but also equipped with Realtek 8763B which is one of the most advanced bluetooth chipset in the industry. It will give you an uninterrupted listen and exceptional lag free audio experience every time .
And benefit from Bluetooth 5.0, ZEERA XPER provides up to 15 meters of distance with no distortion audio signal.
Built-in Noise Reduction technology, ZEERA XPER delivers an excellent audio experience on outgoing voice call and lets you have a clear conversation in whatever surroundings you're in.
REALTEK is the world's leading professional IC design company.
The RTL8763B they released in 2018 is composed of a 32-bit ARM core and an ultra-low power 24-bit DSP core with high efficiency computing power, high performance audio codec, power management unit, ADC, ultra-low current RF transceiver, and smart I/O distribution controller.
This solution supports the latest Bluetooth 5.0, built-in audio decoder, and supports Hi-Res audio playback up to 24bit/192kHz, a maximum operating frequency of 160MHz, and a built-in 8Mbits Flash memory.
It is the absolute best True Wireless Bluetooth Earphone integrated solution.

Outstanding Industrial Design
ZEERA XPER comes in a powerful 6 millimeter driver that produces punchy bass and clear vocals to let you enjoy great quality music you've always desired.
The 2-way dynamic speaker system boosts a driver to produce even more powerful bass and crisp high notes.
Smart Touch Control
ZEERA XPER features a touch sensitive surface that allows you to easily control your music playback , trigger any voices assistance and let you get things done with just a voice command.
Start/Pause music: Single Tap on the button of left/right ear piece.
Volume adjustment: Double Tap on the button of left ear piece to reduce volume, vice versa.
Song switching: Long Press the button of left ear piece for 2 seconds for last song, vice versa.
Active Voice Assistant: Triple Tap on the button of left/right ear pieces.
When there is an incoming call: Single Tap to answer the call, Long Press to reject the call.
When answering a call: Single Tap to hand up the phone.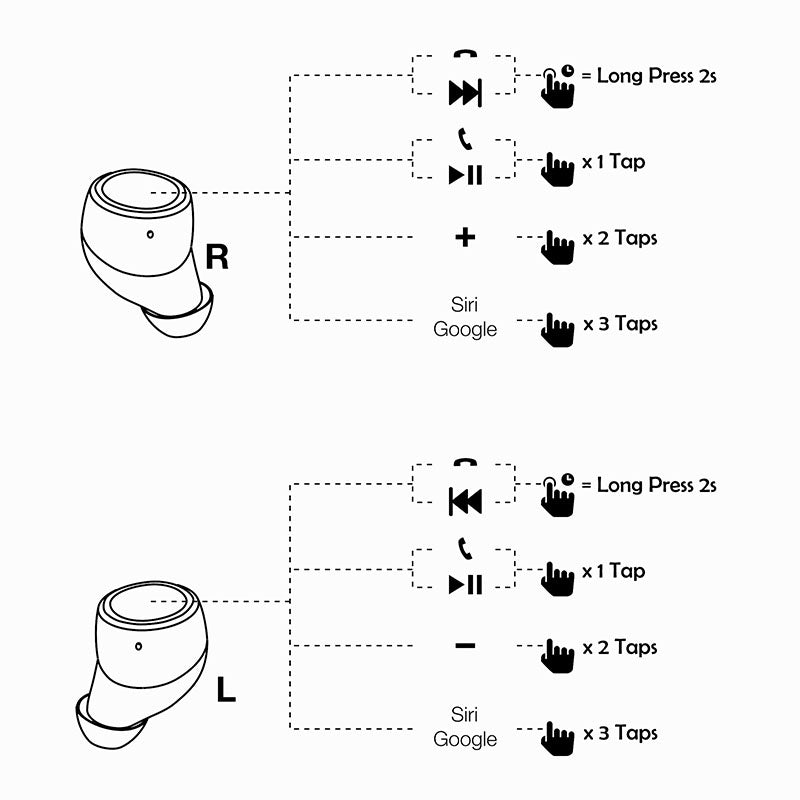 Practical And Convenient Design
With a long-lasting battery, ZEERA XPER delivers up to 6 hours music playback time per charge.
Also a 2500 mAh charging case with TYPE C fast charging is included to provide an additional 102 hours of battery life.
And even more importantly, you can recharge your other devices via a USB A Charging Outlet built in the case.
Wouldn't this be awesome?
Works In Whatever Conditions
ZEERA XPER Earbuds are Weatherproof and Sweatproof  and counted IPX5 rating so that you can wear it with confidence even in wet conditions.
It's designed to withstand your most rigorous workout and any environment thrown on your way.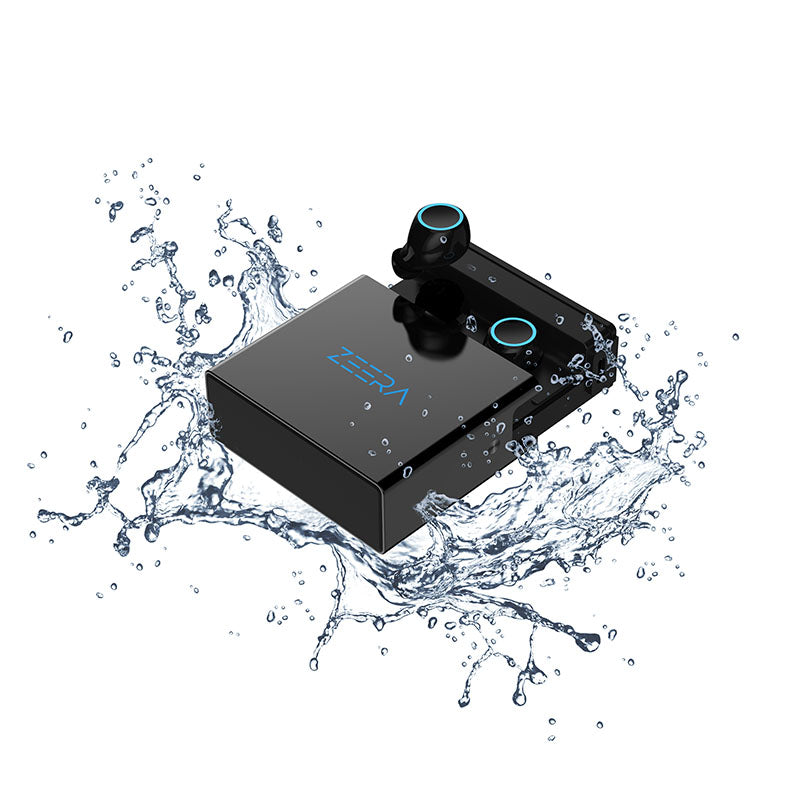 Premium Look And Feel
ZEERA XPER features a premium CNC cutting aluminum alloy body. Gives your an extraordinary "MAC PRO" touch.
And the ear pieces bring you the most smooth texture "piano black"high gloss finish.
Trust me,You can't stop touching it.
Intelligent LED Indicator
You can easily tell the remaining battery power through the white "ZEERA" LED indicator
 76-100% of Remaining Power: LED indicator flashes 4 times
 51-75% of Remaining Power: LED indicator flashes 3 times
 26-50% of Remaining Power: LED indicator flashes twice
 0-25% of Remaining Power: LED indicator flashes once

Fits Secure And Comfortable Yet Stylish
ZEERA XPER TWS Earbuds fit in the ears securely and they are mostly comfortable to wear. Three different size ear tips are included to help you get tighter seal and security. 
A circle of "ZEERA BLUE" LED light on each ear piece makes you the most stylish Star in the dark.
H

assle

F

ree

P

airing
Remove ZEERA XPER Earbuds from charging case, they will turn on entering pairing mode automatically.
Once initially paired with your device, Wireless connections are automatically established when the earbuds are taken out of the case.
Ear pieces automatically power off and recharge when put in the charging case.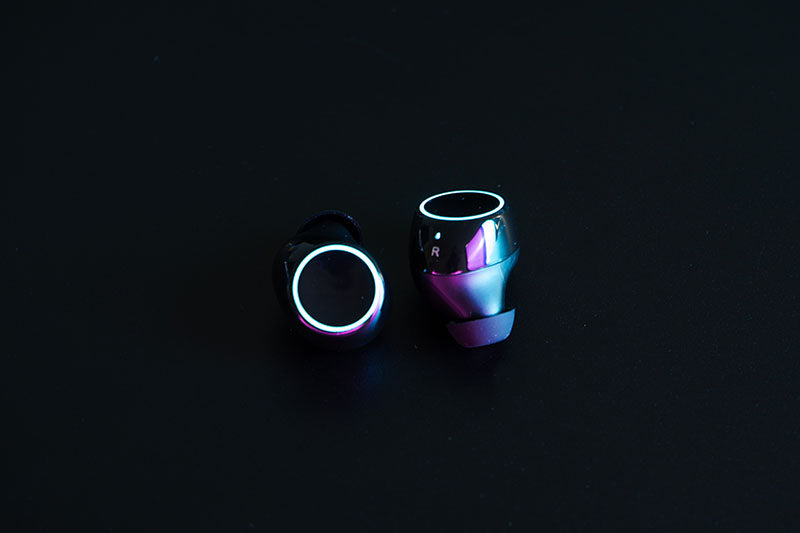 Simplest Way To Activate Your Voice
Once you've synced or connected ZEERA XPER with your phone, simply triple tap the earphone button to activate Siri, Google Assistant, or your phone's other preferred built-in voice assistant. 
How To Wear & Get Better Sound
Try all the different-sized silicone tips that are included with your ZEERA XPER, and then see which one works best for you.

Ensure that the correct earbud is placed in each ear (look for "L" and "R" marks on each earbud).

Insert ZEERA XPER into ear canal with the tip pointing slightly downward, and then gently twist it backward until it feels comfortable and secure. 
Why Proper Earbud Fit Matters
ZEERA XPER is built for excellent sound quality. However, a failure to get a proper seal can potentially degrade sound quality and may lead to issues such as the following:
Less/Weak bass
Earbuds falling out of ears
A thin/hollow sound effect in mid-range and high pitch
Soreness from wearing earbuds for a long time

A difference in volume between the left and right units
To achieve the best audio experience of ZEERA XPER, the selected ear tip should seal the ear canal perfectly.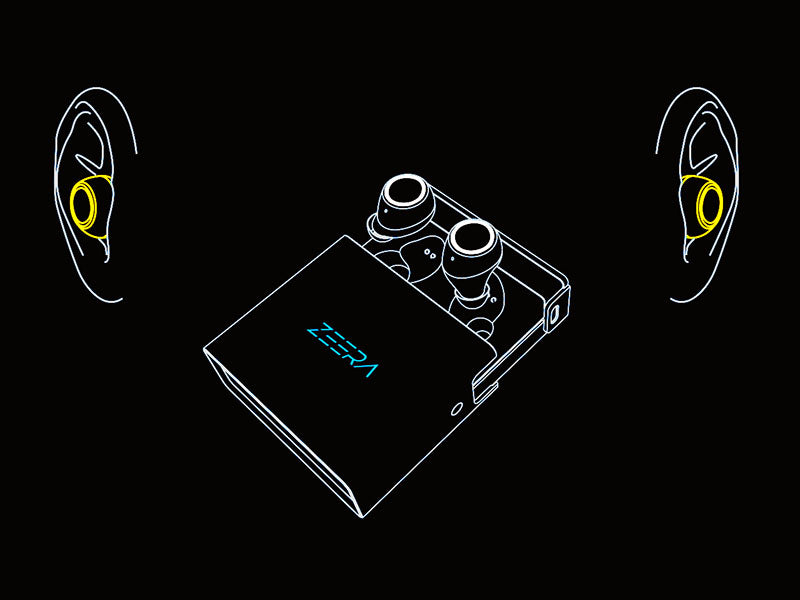 PRODUCT SPEC
| | |
| --- | --- |
| Model | ZEERA XPER |
| Dynamic Driver | 6mm |
| Frequency | 2.40 GHZ - 2.48 GHZ |
| Call Noise Cancelling | Supported |
| Receiver Sensitivity | -92dBm  |
| Microphone | 2 Microphones (L/R) |
| Bluetooth Version | 5.0  |
| Bluetooth Chipset | Realtek 8763B |
| Bluetooth Range | Maximum 15m(50feet) |
| Supported Protocols | HFP / AIDP / AVRCP |
| Case Charging Port | USB Type C |
| Charging Case Size | 74*64.8*27mm |
| Case & Earbuds Weight | 140g |
| Earbuds Battery Capacity | 50mAh*2 (L/R) |
| Case Battery Capacity | 2500mAh |
| Material | Aluminum Alloy + ABS |
| Playback Time With Case | About 6 hours X 17 times |
| Charing Current | DC 5V/2A  |
| Earbuds Charging Time | About 1 hour |
| Working Temperature | -10 - 50 °C  |

WHAT'S IN THE BOX

2x TWS Earbud
1x Charging case
6x Ear cap (Include 2 ear caps equipped on earbuds)
1x USB Type-C Charging Cable
1x Gift Card (Secret Discount)
1x Premium Leather Gift Box (Limited Offer)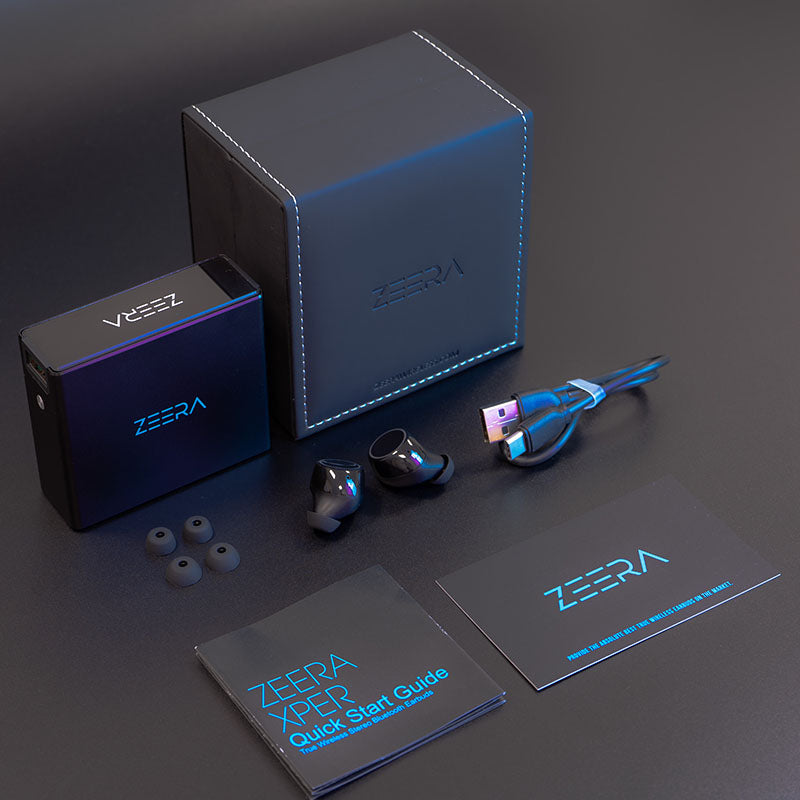 WHY ZEERA XPER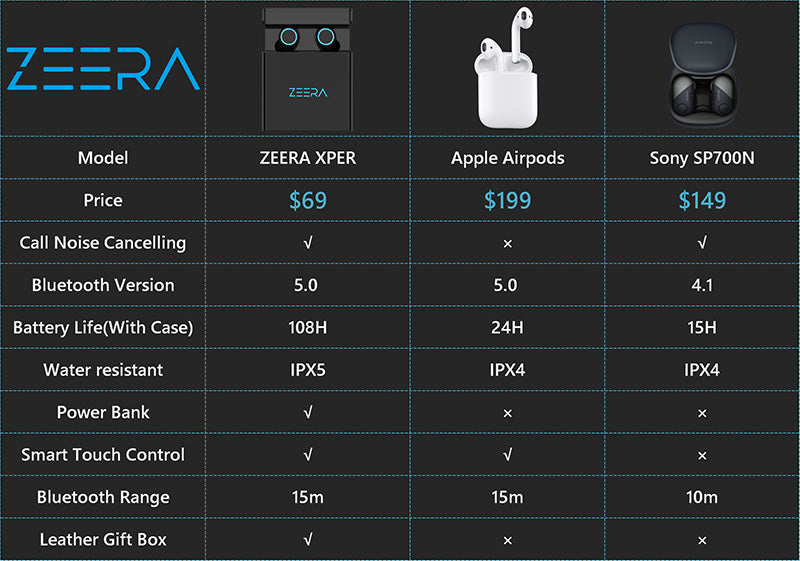 Limited Offer
ZEERA XPER comes with a FREE Premium Leather Gift Box in a limited time. It's the PERFECT gift for family and friend. Subscribe to our website & Follow us on Facebook/Instagram to upgrade the simple package to a FREE Premium Leather Gift Box TODAY.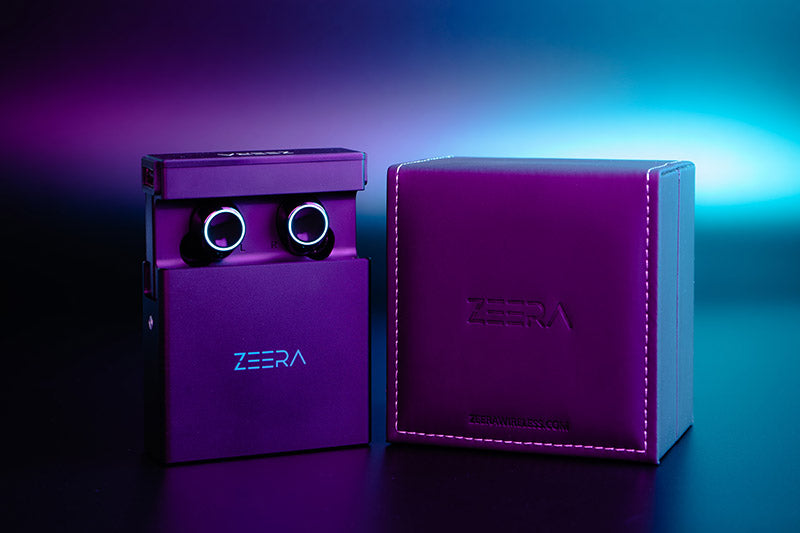 Payment & Security
Payment methods
Your payment information is processed securely. We do not store credit card details nor have access to your credit card information.
---
Security